I have had quite a few people ask about making miniature cruffins, so I am here to let you know that you can certainly make these into mini cheesy garlic cruffins. With each sheet of crescent roll dough, instead of making 4 cruffins, you will make 8 (for a total of 24 if using all three sheets of dough). Cut each log in half (like the original), and then cut in half again, for 4 small 'logs' of dough. Cut each small log in half lengthwise for a total of 8. Roll as directed and place into the prepared mini muffin tin. Bake for 18 minutes at 350°F. Then, brush the tops of the warm rolls with the garlic butter.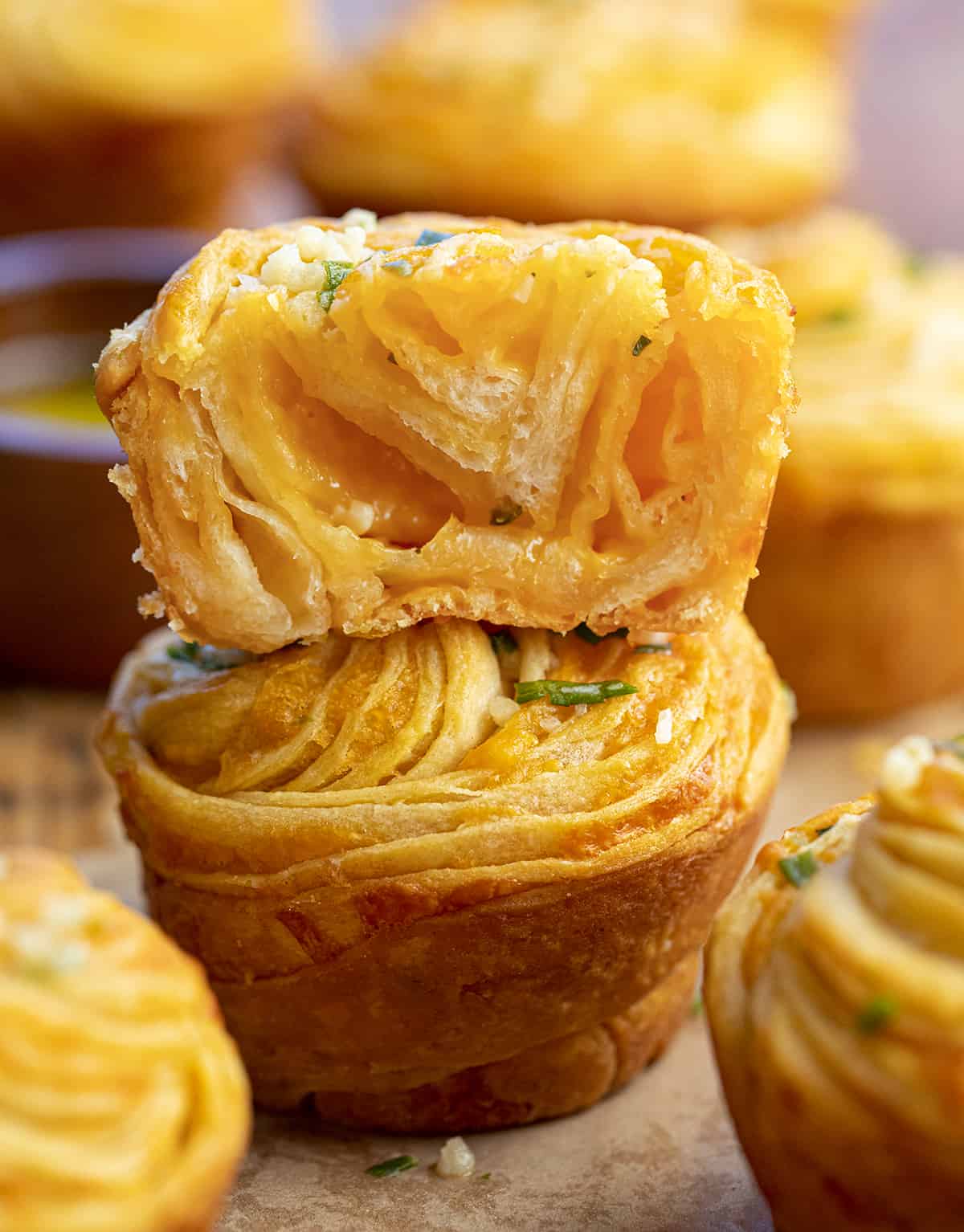 How to Store Cheesy Garlic Cruffins
After the cruffins have been baked, allow them to cool to room temperature. Store the leftovers in an airtight container. They will last up to 3 days, but I doubt it; they are THAT good!
Cheesy Garlic Cruffin
PREP TIME 20MINUTES MINS
COOK TIME 25MINUTES MINS
TOTAL TIME 45MINUTES MINS
This cruffin recipe is crescent roll dough that is filled with a cheesy chive garlic butter, rolled, cut, and baked in a muffin tin.
Ingredients
Dough
▢3 tubes (8 ounces each) refrigerated crescent roll sheets
Filling
▢½ cup (1 stick / 113 g) unsalted butter, softened
▢1 tablespoon chives, finely chopped
▢1 tablespoon garlic, minced
▢3 cups (339 g) mild cheddar cheese, shredded, divided
Garlic Butter
▢3 tablespoons unsalted butter, melted
▢1 teaspoon garlic, minced
▢1 teaspoon chives, finely chopped
▢1 teaspoon kosher salt
For Complete Cooking STEPS Please Head On Over To Next Page Or Open button (>) and don't forget to SHARE with your Facebook friends